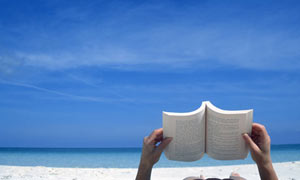 Around this time of year I regularly field variations on the question, 'Are you just on holiday now, what do you do during the summer?'
My answer's always pretty much the same, 'This is the time of year when I get to do two things I've been waiting to do since September: read and write.'
Of course, it's not that I don't read and write during the teaching term, much of my working time is spent doing one or the other. But in the summer months I can leave behind reading student essays, journals and exams, board reports and so on. I have finished writing feedback comments, committee minutes, references and the like. Now I get to read what I want to read, not what I have to read; I get to write what I want to write, not what I have to write. Actually, this sort of reading and writing is essential for me, it's part of my job and it's part of my spiritual development as well.
Everyone who is involved in Christian ministry, whether full-time or part-time, salaried or voluntary, ought to be devoting time to reading widely; learning from the wisdom of their peers and from the experienced wisdom of older Christians; Christians from different cultures; Christians from different traditions and Christians from different centuries. Summer is a great time to do this.
Writing also is very valuable. The discipline of choosing words and recording them on paper or electronically slows down our thinking, forces us to greater depth of reflection and can draw out an honesty that is all too easy to skip over if we just 'think'. Writing helps us to order our thoughts. We can write and rewrite, adding and subtracting until what lies before us is a true reflection of who we are. By the way, you can't really blog or tweet, use Facebook or other social media like this – they are too public, too easy to manipulate. In social media you present the image that you want others to see, not the real you. Why not try keeping a diary or journal, writing poetry or short stories, just for yourself, that no-one but you and the Lord will ever see. Write reviews of tv programmes or films. Have a go at, 'A description of my favourite room in the house and what I feel when I look round it.'
So read well, write well and have a great summer.